EMULATORS COMPARISON TABLE
| | | | |
| --- | --- | --- | --- |
|   | DT4800 | DT5800 – NDT6800 | DT5810 |
| OVERVIEW |   |   |   |
| Channels | 1 | 2 | 2 |
| Energy Resolution (Pulser) | 14-bit | 16-bit | 16-bit |
| Energy (Emulation) | 14-bit | 14-bit | 14-bit |
| D/A Resolution | 14-bit | 16-bit | 16-bit |
| D/A Sample rate | 200 MHz | 125 MHz | 1 GHz |
| Output Range (Fast Edge) | ±2.5 V (50 Ω), ±5.5 V (hi-Z) | ±2 V (50 Ω), ±4 V (hi-Z) | ±2 V (50 Ω), ±4 V (hi-Z) |
| Output Range (Slow Edge) |   |   | ±8 V (hi-Z) |
| TIMEBASE |   |   |   |
| Costant Rate Generation | Yes | Yes | Yes |
| Poisson Distribution | Yes | Yes | Yes |
| Maximum Rate | 1 Mcps | 10 Mcps / 5 Mcps (Poisson) | 50 Mcps/ 20 Mpcs (Poisson) |
| Deadtime emulation | No | Yes | Yes |
| SHAPE |   |   |   |
| Exponential Signal (Digital RC Mode) | Yes | Yes | Yes |
| Memory based arbitrary shape generation | No | Yes | Yes |
| Decay Time | from 20 ns to 1 ms | from 20 ns to 10 ms | from 5 ns to 10 ms |
| Signal Shape Length |   | 4096 | 4096 |
| Multiple shapes on a single channel | No | Yes (2 different) | Yes (4 different) |
| Minimum rising time (fast mode) | 7 ns | 8 ns | 1 ns |
| Minimum rising time (slow mode) | 30 ns | 30 ns | 16 ns |
| NOISE |   |   |   |
| Random Noise | No | Yes | Yes |
| White Noise (Gaussian) | Yes | Yes | Yes |
| Random Walk | Yes | Yes | Yes |
| 1/f noise | No | Yes | Yes |
| Interference Generation | No | Yes | Yes |
| BASELINE |   |   |   |
| Baseline drift | No | Yes | Yes |
| CORRELATED EVENTS SIMULATION |   |   |   |
| Correlated events simulation | No | Yes | Yes |
| Time resolution |   | 12 ps | 1 ns |
| Additional channel for correlated event with indipendent statistics | No | Yes | Yes |
| IO |   |   |   |
| Digital IO | 1 In / 1 Out | 1 In / 1 Out per channel | 1 In / 1 Out per channel |
| External Trigger | Yes | Yes | Yes |
| Trigger Out | Yes | Yes | Yes |
| SEQUENCE GENERATION |   |   |   |
| Sequence of energy and time | No | Yes | Yes |
| FUNCTION GENERATION |   |   |   |
| Arbitrary Waveform Generation | No | 1 Mcps wave | No |
| Function Generation | No | Yes (10 MHz) | Yes (100 MHz) |
| ANALOG INPUT |   |   |   |
| Analog Input | No | No | Yes – 1 channel |
| Signal recording | No | No | Yes |
| Pulse Height Analysis | No | No | Yes |
| ADC N bit |   |   | 14 |
| ADC sample rate |   |   | 150 MS/s |
| Input dynamic range |   |   | 0.75 V, 2 V, 5 V, 10 V |
| CONNECTIVITY |   |   |   |
| Interface | USB 2 (Mini USB) | USB 2 | USB 3 |
| Power Supply | 5 V – 400 mA | 12 V – 4 A | 12 V – 4 A |
| Display Interface | No | No | Yes |
| SOFTWARE |   |   |   |
| DLL for automation | Yes (c++) | Yes (.net) | Yes (c++) |
| SOFTWARE: CAEN Detector Emulator | No | Yes | Yes |
| SOFTWARE: Easy Onetouch (educational simplifyed software) | Yes | No | No |
DT5810 ULTRA FAST DIGITAL DETECTOR EMULATOR
The DT5810 is the model of the Detector Emulator family with the fastest signal output.
Thanks to an updated and faster DAC it is now possible to emulate the behavior of the fast detectors on the market with 1 ns rise time. In addition this new model features an Analog Input that can be used to acquire spectra from a detector and emulate them later. It can also acquire signals coming from the detector and reproduce them real time together with generate pulses.
The output amplitude is selectable at ±2 V with 50 Ω or ±8 V at high impedance. The unit can operate in the same three modes as the 5800 Family (Pulser Mode, Emulation Mode and Waveform Generator Mode). In addition the minimum programmable delay is 1 ns/step, and the Function Generator supports only standard waveforms: e.g. sinusoidal, squared, ramp shape, etc…
FEATURES
• 1Gsps 16 bit DAC
• Pulser/Emulator/Function Generator operating modes
• Energy spectrum emulation
• Time distribution emulation
• Custom signal shape emulation
• Pile-up emulation
• Noise and periodic interference emulation
• Baseline drift
• 1 ns/step programmable delay generator
• Correlated signals generation on the two output channels
• Two shape on the same channel for testing the pulse shape discrimination
• Continuous and pulsed reset pre-amplifier emulation
DT5800 - NDT6800 DIGITAL DETECTOR EMULATOR
FEATURES
• 125Msps 16 bit DAC
• Pulser/Emulator/Function Generator operating modes
• Energy spectrum emulation
• Time distribution emulation
• Custom signal shape emulation
• Pile-up emulation
• Noise and periodic interference emulation
• Baseline drift
• 12 ps/step programmable delay generator
• Correlated signals generation on the two output channels
• Two shape on the same channel for testing the pulse shape discrimination
• Continuous and pulsed reset pre-amplifier emulation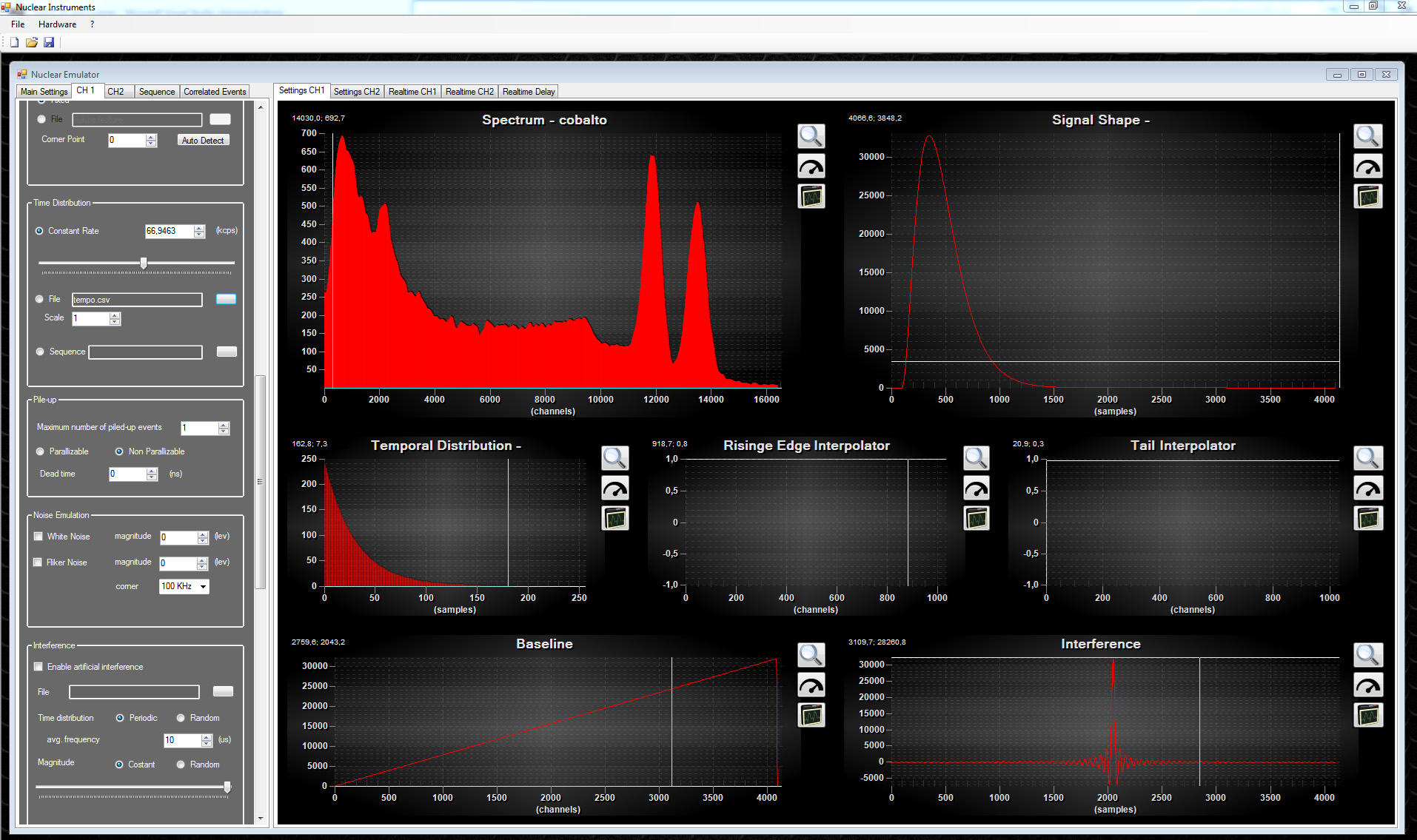 DT4800 MICRO DIGITAL DETECTOR EMULATOR
The DT4800, called Micro Digital Detector Emulator, is the most compact and cost effective model of the Detector Emulator family and it is particularly suited for single detector emulation and educational purposes. The unit features one analog output, one digital input, and one digital output.
As a Pulser it can generate exponential decay signals with programmable Rise Time and Fall Time up to a rate of 1 Mcps.
The rate can be fixed or it can follow a Poissonian distribution.
In Emulation mode the unit can reproduce signals from a real energy spectrum that can be uploaded in the form of CSV or ANSI N42.42 files.
A database of nuclides is provided to generate specific emission lines and Gaussian noise can be added.
An user friendly control software is provided with the unit.
FEATURES
• 200Msps 14 bit DAC
• Pulser/Emulator operating modes
• Energy spectrum emulation
• Time distribution emulation (Poisson)
• Pile-up emulation
• Noise emulation
• Continuous pre-amplifier emulation
• Nuclides database
• User Friendly Control SW with Graphical User Interface