COINCIDENCE TRIGGER
In this example the signal produced on the extreme of four scintillator bars is used in OR in order to detect particle incoming in the telescope to trigger the readout of 2D silicon strip detector
POSITION SENSE SCINTILLATION DETECTOR
A matrix of scintillator bars are used in order to determinate the interaction position of a particle on the grid. The system automatically trigger and transmit the acquired data to the computer using the list mode transfer. Each event is time stamped with 20ns resolution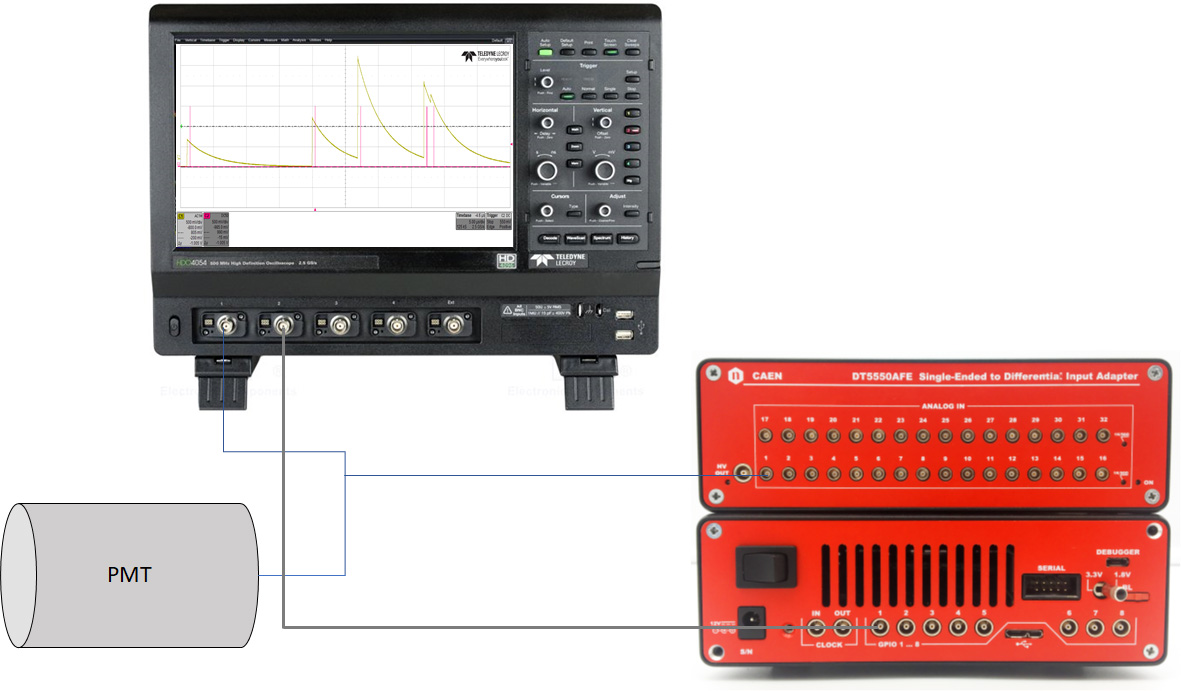 DERIVATIVE TRIGGER
In this example an analog input of the DT5550 AFE is used in order to implement a discriminator based on the zero crossing of second derivative of the input signal and to generate a digital trigger output This kind of trigger as very low time jitter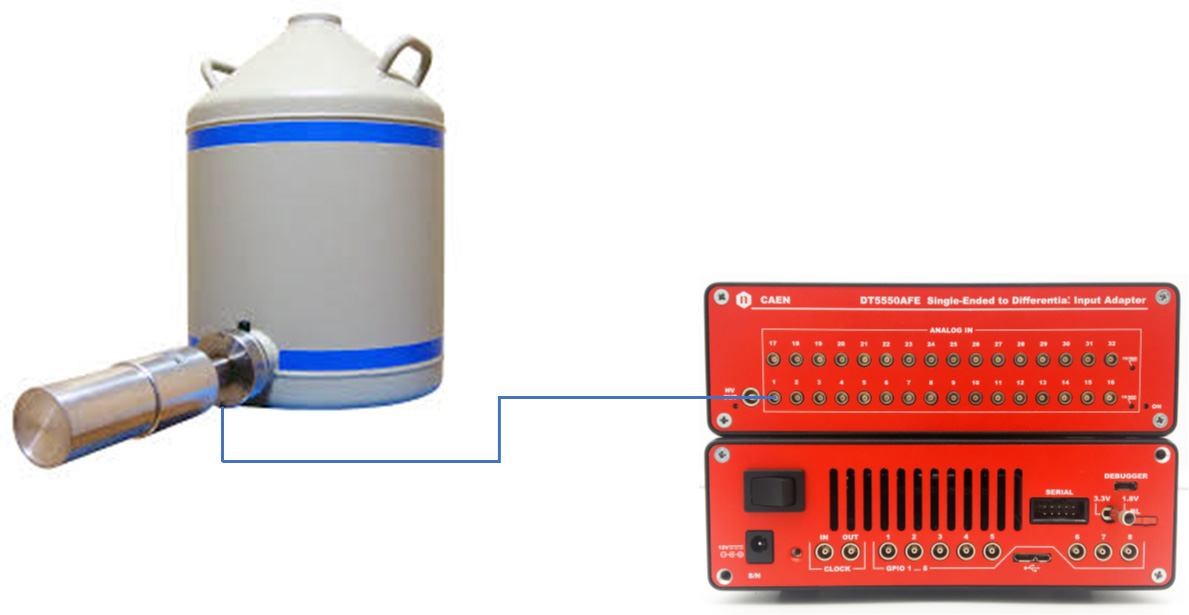 HIGH RESOLUTION SPECTROSCOPY
The DT5550 is used to calculate the energy spectrum of a radiation source using a HpGE detector. The high resolution performance is achieved using the trapeziodal filter that maximize the signal to noise ration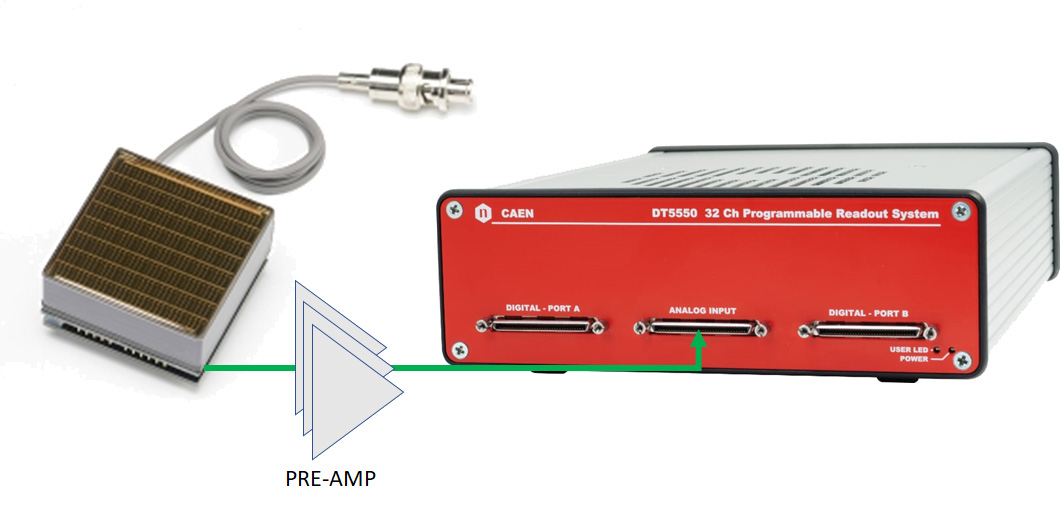 32-CHANNELs MULTI-ANODE PMT READOUT SYSTEM
In this example the DT5550 is connected to a multi anaode PMT matrix in order to perform imaging and spectrum analyses. Spectrum and online image monitor are calculated in realtime while images are saved on disk as list of timestamped frames. Full working and open source software and firmware are provided in SciCompiler Installation Package
64-CHANNELs SiPM IMAGING MODULE
The DT5550AFE-S is a SiPM front end to amplify the signals from 64 SiPMs and digitize them with two DT5550 working in multi board synchronous mode. Full working and open source software and firmware are provided in SciCompiler Installation Package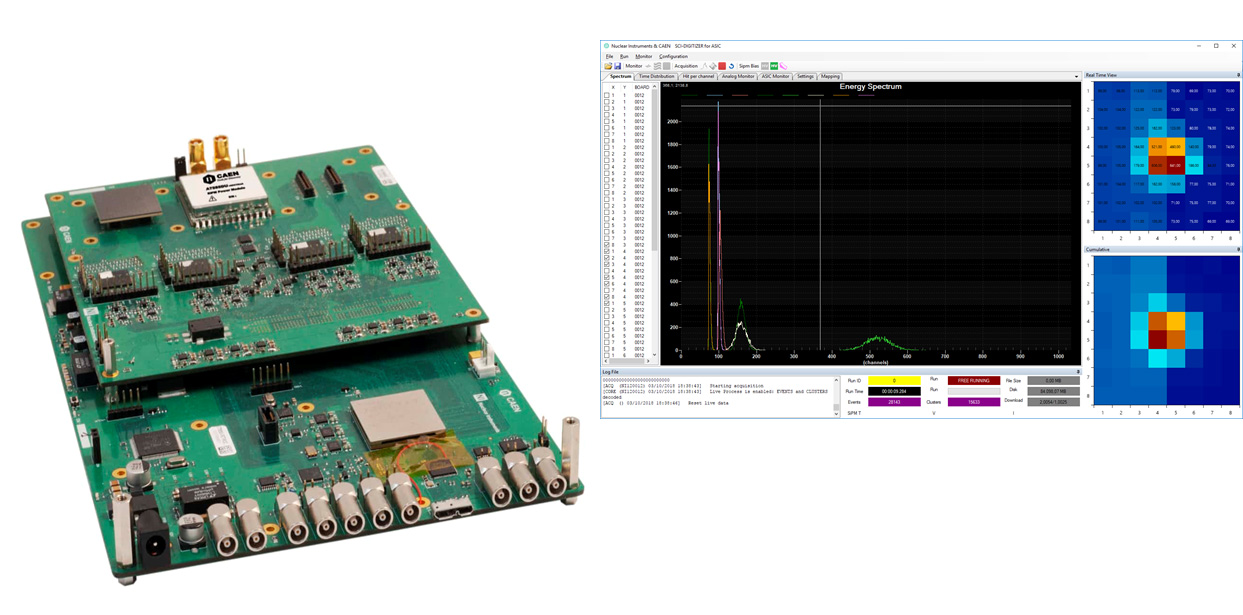 128-CHANNELs ASIC BASED IMAGING READOUT SYSTEM WITH 50 ps RESOLUTION ToF (WeeROC PETIROC 2A Based)
The DT5550W is a multi-purpose board developed to host up to 4 WeeROC ASIC (Petiroc, Citiroc, Maroc). This example is the base firmware distributed in conjunction with the PetiROC board.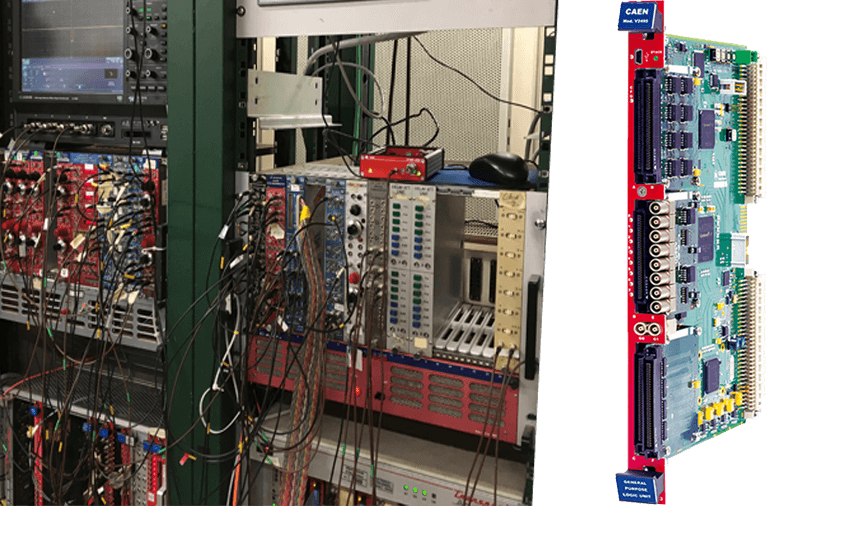 MULTICHANNEL SCALER AND PATTER MATCHING TRIGGER LOGIC
In this example we will use the V2495 board to generate a pattern starting from the content of a file; the pattern generator is then used to stimulate a series of counters and a pattern matching state machine that can be programmed by USB, VME or Ethernet in order to recognize a two word pattern. All counters can be read out or resetted from USB, VME or Ethernet.